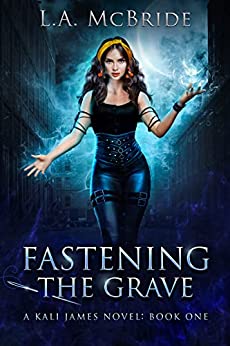 Fastening the Grave
L.A. McBride
Paranormal Suspense



Two things are impossible to walk away from: death and vintage clothing. Trust me. I've tried.Moving across the country and opening a costume shop was supposed to be my chance for a normal life. What I wanted was a fresh start, one where the biggest danger would be a carelessly wielded sewing needle.
What I got was the ghost of a murdered reporter demanding justice, a power I can't control, and a new goat shifter BFF hell-bent on trouble.
Now, my hunt for the killer threatens to expose a supernatural community determined to safeguard its secrecy at any cost. My only chance to survive is to embrace the legacy I've spent my life running from.
---
Uncaged Review: This was a decent start to a series,
but it did take a bit to get going. It didn't grab me
right away, but I kept going and it got a bit better. I
think that our MC, Kali is a bit immature and does a
lot of leaping without a lot of planning. If you keep
going, the book does pick up speed and turns into a
really decent suspense.

Kali can see ghosts ever since her sister was killed in
an accident as a kid. Running away to Kansas City to
be a costume designer was her thinking she could get
away from the past. But when Kali sees a new ghost,
and he wants her to solve his murder, Kali decides the
only way to get rid of him is to solve the case. But
during her investigation, Kali digs up a supernatural
world and finds out that she's actually a part of it, and
instead of learning more about this world and herself,
she stupidly dives into and keeps digging and ignores
the warnings.

So although this book was a slow starter, and the
main character has some issues, the supporting cast
is strong and the suspense is good once it gets going.
I will go on to the next book to see if we have some
growth from Kali. Reviewed by Cyrene



4 Stars