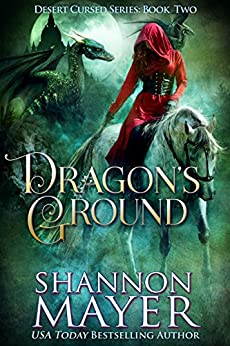 Dragon's Ground
Shannon Mayer
Urban Fantasy
Dragons and danger and magic collide.
And its only Monday.

Once more Zamira must test her mettle against a world bent on breaking her, proving she is more than she seems.
We survived the land of the Witch's Reign, that much is true. But our arrival home is far from welcome.
My idiot brother has taken it upon himself to ride off in search of a mythical healer, someone who might help him walk again. Assuming she doesn't eat him first. Because said healer is a dragon and happens to reside in the deepest reaches of the Dragon's Ground. Like I said, idiot.
I'd go after him myself, but his leave-taking is not the only problem I face. My mentor has yet again forbidden me to leave the safety of the Stockyards. Her reasoning?
That I am too weak to weather the coming storms.
With my pride wounded in more ways than one, I must gather the few allies' I have left. My ex-husband's new girlfriend at the top of the list and a goat bleating, oversexed Satyr.
FML.
If I'm lucky I'll find a small dragon and a Jinn whose blue eyes still haunt my dreams along the way.
Buckle up, buttercup, this ride is about to take a seriously unforeseen twist.
Uncaged Review: I read the first book in this series a few months ago, and even though I liked it and liked the direction it was going, I didn't love it. That all changed with this second book in the series. So many questions from the first book are answered, but still many more remain. But this book turned this series into a must read for me, it was full of action, twists and turns and allies coming from the most unusual places. There are new allies and new enemies, and Zam along with Maks, Lila and Balder will be in the thick of it again.

World building and character development is much stronger and the action scenes were non-stop. The author has tossed in a few twists that I didn't see coming. If you didn't fall in love with this trio in the first book, you may fall in this one. I can honestly say that I laughed, screamed (OK, not loud) and cried in this book and I can guarantee it won't take me a few months to read book three.