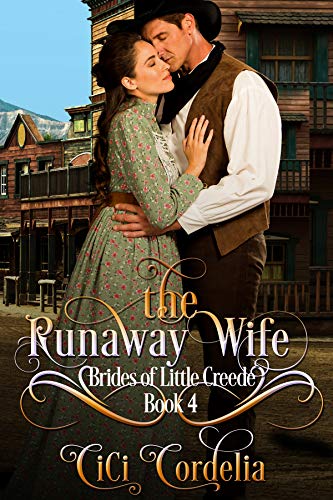 The Runaway Wife
CiCi Cordelia
Historical Western


SAM . . .
Samuel "Sam" Singleton has set aside his unsavory past, as a riverboat gambler and sometimes hired gun, to take on employment as security for Knight Gleason's Gambling Galleria in Little Creede. Sam and Knight go back a ways, and Sam figures he owes Knight for some valuable mentorship. Then he meets a stowaway thief in the Galleria kitchen, and it changes the direction of his life.
IZZY . . .
Isadora "Izzy" McDougall is on the run from a dangerous family situation. On the road for days, hungry and exhausted, she takes shelter in a desperate bid to find food. Instead, Sam finds her.
SAFER, TOGETHER . . .
Sam's never been the nurturing type, but Izzy's sweetness and innocent bravery touches his heart. He finds himself willing to protect her from her scheming family at any cost, even if it means tying himself down with a wife.
BONUS CONTENT: (available in e-book and print only)
CHRISTMAS IN SILVER COUNTRY
(Robert and Maggie's Story)
Robert Blackwood comes to Magnolia Sanders' rescue when she's lost in a snowstorm. Taking shelter in an abandoned cabin, he fights his rising desire for the innocent beauty, while trying to keep them alive.
---
Uncaged Review: It's always a treat to read a book from these authors, together they write a seamless story, and the reader can never see where one author leaves off and the other begins. The Brides of Little Creede is a great series, each one is original and true page turners.

In this book, we get Izzy and Sam's story. Izzy runs away from an abusive family, a family aiming to marry her off to an old abusive man, for money. She makes it to Little Creede where Sam finds her and takes her under his protection. Danger mounts for Izzy and Sam when Izzy's brother, father and the dangerous man they want to marry her off to, comes looking for her.

This book has almost everything you'd want in a historical romance. Danger, even a bit of a thriller vibe, and the dashing hero and a woman who grows into her own throughout the story.

A bonus, the ebook version of this story has a bonus short story about Robert and Maggie, and how they are trapped in a cabin during a snow storm. Reviewed by Cyrene


5 Stars