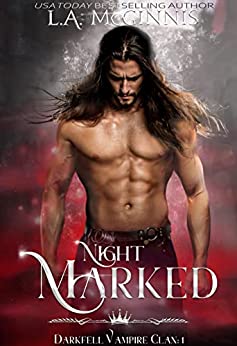 Night Marked
L.A. McGinnis
Dark Fantasy


A virgin queen determined to choose her own fate.
A scarred warrior marked by darkness.
And the king who will kill them both to keep the throne.
I was plucked from my ordinary, ho-hum life and plunked into a nightmare.
Abducted by a corrupt vampire king, I've gone from night classes to navigating the dangerous world of the Darkfell Clan, where the courts are a maze of deception, you test your wine before you drink it and never, ever sit with your back to a door.
They say I'm the strongest queen in a thousand years. Destined to overthrow the king and take back my kingdom. I don't know about all that, but I know I can't face him alone.
He commands a legion of monsters, but I'm building my own army, and though my bonded warriors are few, together, we'll defeat Viktor.
Or die trying.
I might be a queen, but this isn't like any other fairytale.
---
Uncaged Review: Seraphina is a college student
who is kidnapped walking home one night and
tossed into the royal dungeons. Viktor, the vampire
King, stole the throne by murdering all of Seraphina's
ancestors. But Seraphina has been raised as
a human, with her magic and powers not fully in
effect. The prisoner in the cell next to her – Luthor,
knows that she is the rightful Queen, and helps to
break her out, along with another prisoner, Cyrus.
But the cut that she got from Viktor is not healing,
so they get her to her grandmother's home, where
Seraphina learns the truth of her heritage. Now she
will need to call on and use all her magic to defeat
Viktor and retake the throne as the rightful heir.

This book borders on horror, and does quickly
turn into a reverse harem. I haven't been reading
the vampire genre for some time, so it was a good
jump back into the genre. I always thought that the
cover depicted Luthor, but I was wrong about that,
but I won't ruin the story. There is plenty of action,
and some brutal fights, but this is one of the best
starts to a series I've read in a while. This is a four
book series, and all books are available now.
Reviewed by Cyrene


5 Stars