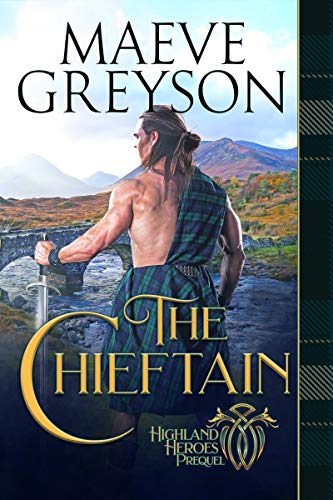 The Chieftain
Maeve Greyson
Highlander Historical


No home. No clan. No need of a wife. Until her.
Alexander MacCoinnich fights for hire if the cause is worthy and the price is right. Life as a mercenary suits him—until a fierce beauty snatches him from death's door after the massacre at Glencoe. Though he has nothing to offer her but himself, he can't leave behind the sweet lass who risked everything to save him.
She made an impossible promise.
When Catriona Neal promised her dying mother she would do her best to shield the clan from her father's maniacal whims, she didn't realize her twin brother, next in line to be the chieftain, was far more dangerous than her evil sire. But the arrival of the wounded, Highland warrior her brother hates and fears gives her hope and so much more.
Conquer or be conquered.
Heartbreaking treachery melds a bond between Catriona and Alexander, but can they survive long enough to nurture the love they both so desperately need?
---
Uncaged Review: Alexander and his men live
their life as mercenaries, since illness took away
most of his clan. When he is on one of his missions,
he is shot and taken to a clan where Catriona
mends the injured and gives them sanctuary.
But Catriona's brother is evil, and as the next in
line to be chieftan, with a fast ailing father wants
them gone.

This is a nicely paced Highlander, and it's been
a minute or two since I read one. The romance
between Catriona and Alexander is one that they
must face danger and loss to get to their HEA.
The secondary characters will each get their own
turn at a story in the series and I'll keep reading.
Eventually you come to a point in this book
where you just want to read it all the way through,
so make sure it's not a work day the next day.
Reviewed by Cyrene


5 Stars