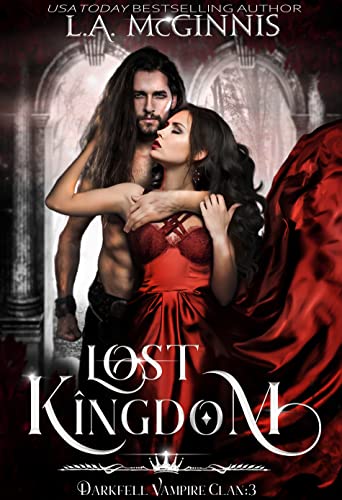 Lost Kingdom
L.A. McGinnis
Paranormal Romance


I might be a queen,
but this isn't a fairytale.
A ruthless king dragged me into the vampire world kicking and screaming, intending to kill me, like he had so many before. Then I took everything away from him.
His throne is mine.
His kingdom is mine.
I wear the crown of the vampire queen, and to some, it seems all my dreams came true. But victory came at a terrible cost. My mate is far beyond my reach, and trying to save him would risk a bloody battle and the lives too many innocents.
But when an ancient evil rises, the only way to survive is with Deston by my side, which means I'll fight to get him back.
If war is coming, it might as well be on my terms.
---
Uncaged Review: Everything is coming at Seraphina from all sides, from the threat of losing the palace to fighting to get Deston back. Many secrets are revealed in this installment, and many I never saw coming. The main series arc continues to run, but this does not really end on a cliffhanger and all 4 books in the series is out now.
There are some major twists in this book that will put a whole new slant on the series, and it was quite the shock at the end. There are some heavy sex scenes, so if that's not your cup of tea, this is a warning. It's hard to describe the book without giving too much away, but this is a good vampire series that stands out in the genre and for readers that enjoy the vampires, this series is a must read. I would recommend that readers start at the beginning, as they don't read that well as standalones. Reviewed by Cyrene

5 Stars