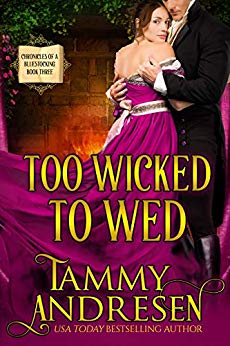 Too Wicked to Wed
Tammy Andresen
Historical Regency

A rakish lord and a lady with a vendetta….
Lady Caroline knows all about rakes. One ruined her after all. Allow a rake to kiss you once under a flowering pear tree, shame on him. But allow another to kiss you beneath a full moon of the summer solstice, well, shame on herself. She's not falling for that sort of trick no matter how handsome Lord Marksman is or how alluring his strong arms or how tempting his achingly wicked lips are. Caroline's learned a few lessons. In fact, she's even recorded them in a chronicle to teach the ladies of London how to avoid these very traps. But she can't leave until she's taught Marksman a lesson. A very good one on how a gentleman ought to treat a lady…
Lord Pierce Marksman isn't certain why he finds Lady Caroline so tempting. Yes, she's blessed with waves of thick blonde hair, lush pink lips, the sort that make a man ache. But he's met beautiful women before. And of course, her curves are lush and sweet, the kind that could keep a man warm for days. But he's seen better. Hasn't he? The problem is he can't bloody remember. That's a damn shame because he needs to find a rich wife with a sterling reputation to bolster his family name after his brother destroyed their's. And that's not Lady Caroline…
The more their path's cross the harder it is to deny that he wants her. Maybe needs her. And when Caroline's in trouble he has a decision to make. Does Pierce save himself or her?
Uncaged Review: Another great installment of the Chronicles of a Bluestocking series, and this time out we have Pierce and Caroline's story and I think this is my favorite of this series so far. A great second chance romance and who doesn't root for an underdog? I will admit I wanted to shake some sense into Caroline a couple times, but Pierce was a loyal and fierce friend and suitor, who never wavered. The one issue, and I've been seeing this too often for historical romances lately, is that the cover doesn't match the characters at all. It really does bother me that the attention wasn't paid to the book at all, although it's a lovely cover. But it didn't diminish the great story inside.

Don't let the page count on Amazon fool you, it's 161 pages, not 21 as it's marked. Reviewed by Cyrene
4.5 Stars