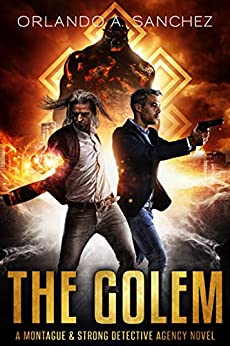 The Golem
Orlando Sanchez
Urban Fantasy


It's uncomfortable between a rock and a hard place.
When the NYTF reports that a golem, a large rock creature, is terrorizing parts of the city and destroying hubs of power, Ezra calls on Montague & Strong to investigate and stop the creature.
Their first reaction is to refuse.
Except there's one problem.
No one refuses Ezra, a personification of Death, without grave consequences.
Now, Monty and Simon, together with Ursula of the DAMNED, must uncover how the golem was created and who would use it to destroy hubs of power, without being crushed in the process.
What they uncover, will have them face a power beyond their abilities and make choices with dire consequences.
Consequences they may not be ready for…yet.
---
Uncaged Review: The 10th book in the series, and it comes out swinging. I've missed reading in this
series and the series is still as strong as ever. This time they have to take care of a mage that wants all
the power and has created a golem to help him get to the magical hubs of power. Some fun parts are always in this series, and this one is no exception, with some supernatural wannabes in Bangers and Mash, Simon is at his best. The snark, the action and laugh out loud moments are all here, tucked within a great storyline.

If you are looking for a good urban fantasy series, I can't recommend this one enough. It's another series
that would do well on film or series, but the casting would need to be perfect. We learn even more about
Simon and Monty, and we can't ever forget Peaches, and he may have finally eaten too much meat in this
one. Reviewed by Cyrene


5 Stars