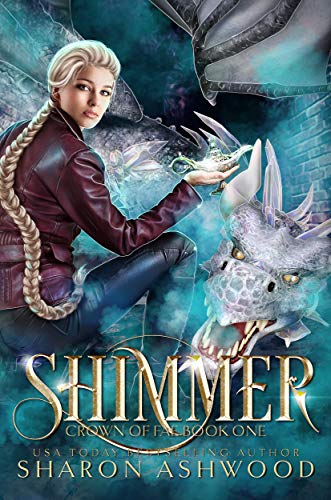 Shimmer
Sharon Ashwood
Fantasy Romance
Three wishes, two warriors, one chance at redemption
Fae martial artist Alana Beech demands justice when her teammate dies during a rigged fight, but no one cares. Injured and alone, Alana is forced to accept a last-chance job at a curiosity shop. There she finds a magic lamp—and a spark of hope—in a box of abandoned junk.
Ronan is a dragon prince imprisoned during the destruction of the fae homeland. He's the genie bound to the lamp and forced to grant three wishes to every comer. As handsome as he is hazardous, Ronan joins Alana's search for answers.
While their alliance turns passionate, Alana's quest reveals a mystery that goes far beyond murder. The lamp is a lethal weapon, and Ronan's enemies are on the hunt. Alana will do anything to guard her lover's back, but sometimes a warrior's courage—like the genie's wishes—carries an unexpected price.
---
Uncaged Review: This is a fun premise for a
book, and the characters are likeable. Alana is a
cage fighter, trying to make a living and just barely
squeaking by. When her partner/teammate is killed
in a rigged fight, Alana is alone and forced to take
a crap job to pay the bills as the injuries she has
prevents her from fighting and she doesn't have a
lot of magical blood. But she comes across a lamp
only to find a real genie inside ready to grant her
three wishes.

Ronan is a dragon prince, who was imprisoned in
the lamp, and has spent centuries granting wishes
and corrupting the people that use them. When he
comes across Alana, she gives him hope for breaking
the curse.

I would have liked better world building, but the
character development was good and the there
were a couple of good twists at the end. I wanted
to tell Alana a few tips at times, but she got there
in the end.


4 Stars