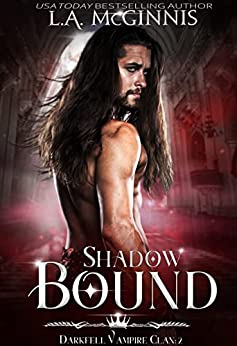 Shadow Bound
L.A. McGinnis
Dark Fantasy


For a hundred years, a queen was promised.
Now that she's arrived, war is not far behind.
Everything in the Darkfell Clan world puts you at risk. From the twisted king determined to kill me, to the demonic revenants hunting me down, it seems everyone wants me dead.
Lucky for me I've found powerful allies—a sexy warrior with a heart of gold, an arrogant trickster who's as good with a knife as he is with words, and a reclusive ancient whose wounds run too deep to heal.
Our love makes us strong, but it could become the lever that breaks us apart.
I didn't want a war, but when Viktor takes something that's mine, he needs to learn the truth.
I'll kill to save the ones I love.
New Orleans is about to become very bloody.
---
Uncaged Review: The second book of this series
really ratches up the tension and secrets. Some things
are answered as Seraphina begins to come into her
powers. Learning more of who she is, and becoming
stronger with her allies. There is a lot of danger, action
and hard hitting sex scenes – enough to keep you
flipping pages quickly. There isn't any filler characters
here, every one has a purpose to propel the story
forward. There is not a lot of wasted pages in this
book.
Luther and Cyrus are in great form, and Deston is
the vampire that the reader falls for. The romance is
spot on, and in this addition to the series, you find
out more background of the clans and Seraphina's
history. This is the book that ties the first one and the
series together. Can't wait to start the next one.
Reviewed by Cyrene


5 Stars