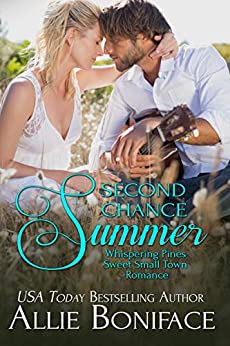 Second Chance Summer
Allie Boniface
Contemporary Romance
She can't remember her past. He's on the run from his. Love may be their only hope.
Ten years after leaving home, the last thing Summer Thompson expects is to inherit a half-renovated mansion. And the last thing she wants is to face the memories of the night her brother died. Now living in San Francisco, she plans to stay east just long enough to settle the estate and get rid of the house.
Until she finds it occupied by a hunky handyman who's strangely reluctant to talk about his past.
Damian Knight has been hiding his mother and sister from a violent ex, and Whispering Pines is the one place they've found peace and safety. He keeps to himself. He tells no one about his past. Yet when the lonely, haunted Summer steals his heart, he finds himself opening up to her in ways he should never risk.
As their attraction grows, the past begins to catch up with them. Summer's mounting flashbacks leave her determined to uncover the truth about the night her brother died. But that truth will cross paths with the man Damian and his family have been avoiding for years.
Can new love help them defeat the pain of the past? Or are some scars too deep to ever heal?
Uncaged Review: Second chances to make things right and to fall in love. This sweet romance has a bit of mystery, suspense and even a bit of danger. When Summer returns to Whispering Pines to get the house ready that her dad willed to her after he died, Summer will find that it's not that easy to walk away and sell the house as she thought. Being sent away after a car crash 10 yrs ago that killed her little brother, Summer feels that the heartache in the town will be too much. But she doesn't remember what really happened that night, so to be able to put the past behind her, she will need to find out. And when she meets Damian and his family, things are no longer as clear cut as they were.

A nice story, even with a twist I didn't see coming at all. This is a nice small town romance and you get to feel the emotional turmoil of Summer's life, as well as Damian and his family. There is a HEA here, and it would have been nice to read an epilogue, since so much of Summer's time in the book is confusion and sadness, it would have been nice to see a bit into the future of her being a bit more happy, but this is a charming story that shows you that you can go home again. Reviewed by Cyrene