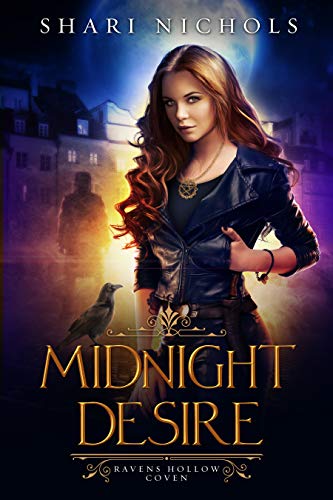 Midnight Desire
Shari Nichols
Paranormal Romance
When danger and desire collide, a witch with a sordid past and a special agent with nothing to lose must form an unlikely alliance.
While trying to escape her past, kick-ass witch Willow McCray dispenses her own brand of justice swiftly and without mercy, until she crosses paths with sexy Magickal Bureau of Investigations Agent, Alex Denopoulos.
Now, she must use her powers for good if she wants to stay out of the mage prison, Hellios.
Alex will stop at nothing to catch a killer, including recruiting notorious felon, Willow McCray, to work for the agency. While under his guard, the lines between duty and passion become blurred with the red-haired beauty.
His penchant for justice and deep-seated hatred of witches makes a future together seem impossible.
But he's not ready to let her go. Now he'll risk more than his badge to keep her alive.
If only Willow can vanquish the evil surrounding them and give Alex what he wants—before she loses her heart and even her very soul in the process.
Uncaged Review: This is a paranormal romance that doesn't pull any punches on the danger and the gore, and it's got plenty of action, magick and romance. Characters are well developed in this story and Willow is a tough witch with a heart of gold that has strong psychic powers. Alex is a mortal that works for the Magickal Bureau of Investigations and is paired with Willow as his partner when the Bureau gives Willow the option of spending the rest of her life in Hellios (a magickal prison) or becoming a part of the team. When her best friend is murdered, she is partnered with Alex, who detests witches. But the longer Alex and Willow are together – the more both of them will be able to resist the attraction. As more witches are murdered, Alex will stop at nothing to keep Willow safe.
I was very glad to see this is the first book in a series. It's got my attention and the twists and turns in this suspenseful fantasy that kept me whipping the pages on my Kindle to see what happens next. I am fully in on this series. Reviewed by Cyrene