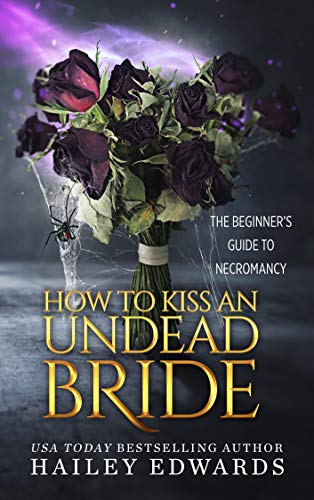 How to Kiss an Undead Bride
Hailey Edwards
Urban Fantasy


The Epilogues: Part I
Groom? Check.
Dress? Check.
Cake? Check.
More cake? Double Check.
Even more cake? Triple check.
(Seriously, who left Lethe alone with Grier's credit card?)
Anything that can go wrong has,but all the deposits have been paid, and the menus are set. Mostly. There's always room for more cake, right? All that's left is for Grier and Linus to exchange vows and set off on their honeymoon. Their happily ever after awaits, so close they can taste it.
No.
Wait.
That's probably just more cake. Frosting gets everywhere.
Anyway, there's also murder, arson, and general mayhem. This is what happens when two potentates marry. Just cross your fingers they survive exchanging vows, and that the knot they tie doesn't turn into a noose.
Uncaged Review: This series has been one of my very favorites, and these epilogues are just the right icing on the cake. But don't think that these are just short novellas, the author does a great job giving us a complete plot inside the wedding planning. And did you really expect a wedding between Grier and Linus to go without a hitch? What fun would that be?

This is the first of three epilogues, and Grier and Linus are finally getting married. There is romance (clean), plus laugh out loud moments, a suspense with danger and action. The author giving us these epilogues is truly a gift, and I'm looking forward to the second one when they actually try to take a honeymoon. Reviewed by Cyrene



5 Stars